Login
Log in if you have an account
Dont have an account? Register
12 Days of Gifting
06 Dec 2022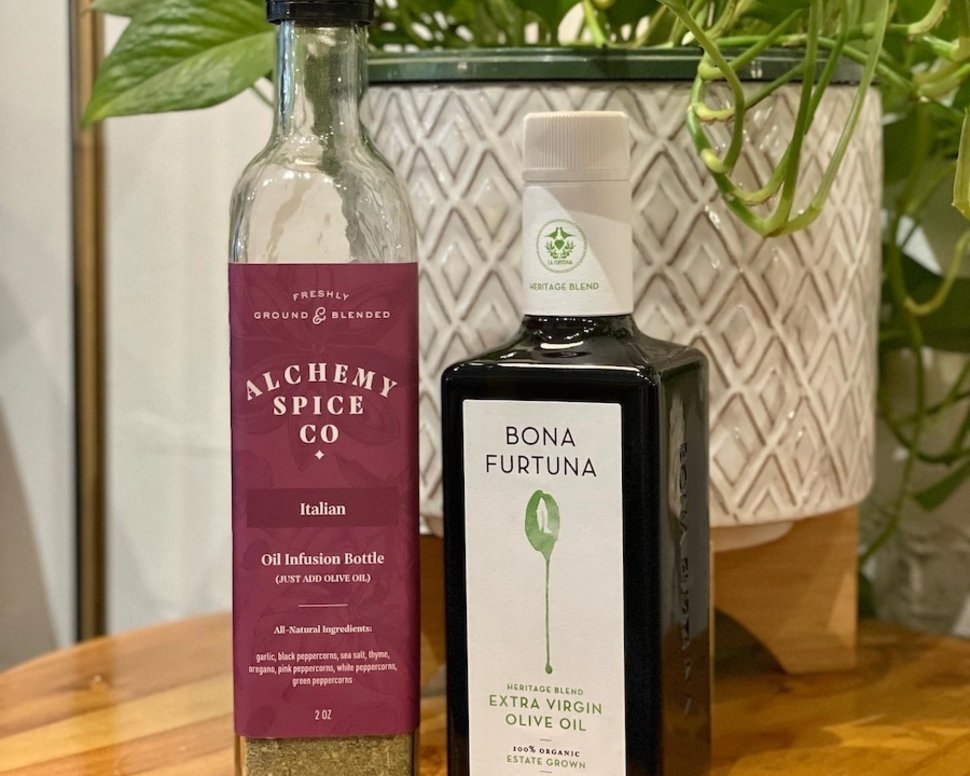 With so many unique gift ideas out there, it may be hard to choose. We've curated our top gift ideas for 12 Days of Christmas to help you find the perfect local, sustainable, and eco-friendly gift for everyone on your list.
First up is the ever-delicious Italian Oil Infusion Bottle by Alchemy Spice Company, paired with Bona Fortuna's Heritage Blend of Extra Virgin Olive Oil. Alchemy's Oil Infusion Bottle provides the outstanding blend of aromatic oregano, touch of spice from peppercorn, and a gorgeous, traditional bouquet of garlic and thyme. Next, we'll grab the luscious Heritage Blend Extra Virgin Olive Oil by Bona Fortuna, harvested in the Sicani Mountain region from Sicilian olive trees that are up to 1,000 years old for a blend of 100%, single-estate olive oil that brings the essence of Corleone right to your table. When the two combine, you're sure to bring flavor and wonder to the table every time.

These two are available separately at our flagship on Duval Street, within the Green Pineapple Wellness Cafe among our many other wholesome spices and ingredients. Just grab, bag, deliver, and savor.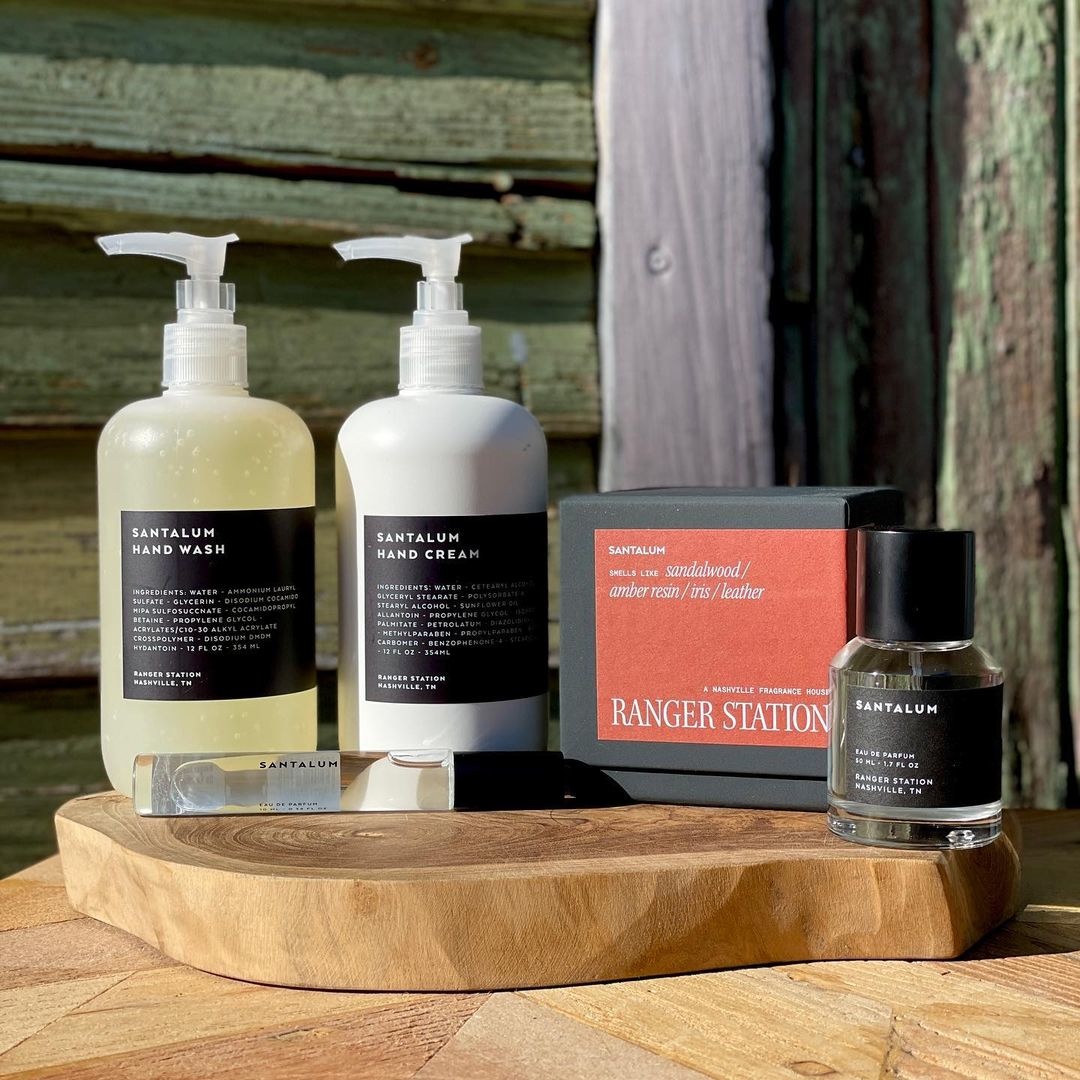 On the second day of our 12 Days of Holiday Gifting countdown, we're focusing on one of our favorite style points: fine, everyday fragrance.
Scent has the power to elevate every facet of our day. From setting a tone of warmth in a friendly reunion, to cleansing your profile with bright freshness, Nashville-based Ranger Station fragrance house is a true showstopper. Bottled with clean, non-irritating fragrance oils and stronger scent profiles without the headaches, Ranger Station is your personal mark on each room you enter.
The gift of fragrance is not just limited to perfumes and colognes. These unisex fragrances from Ranger Station are available in hand soaps, lotion, plus full and travel sizes to cover your scent bases all the way through.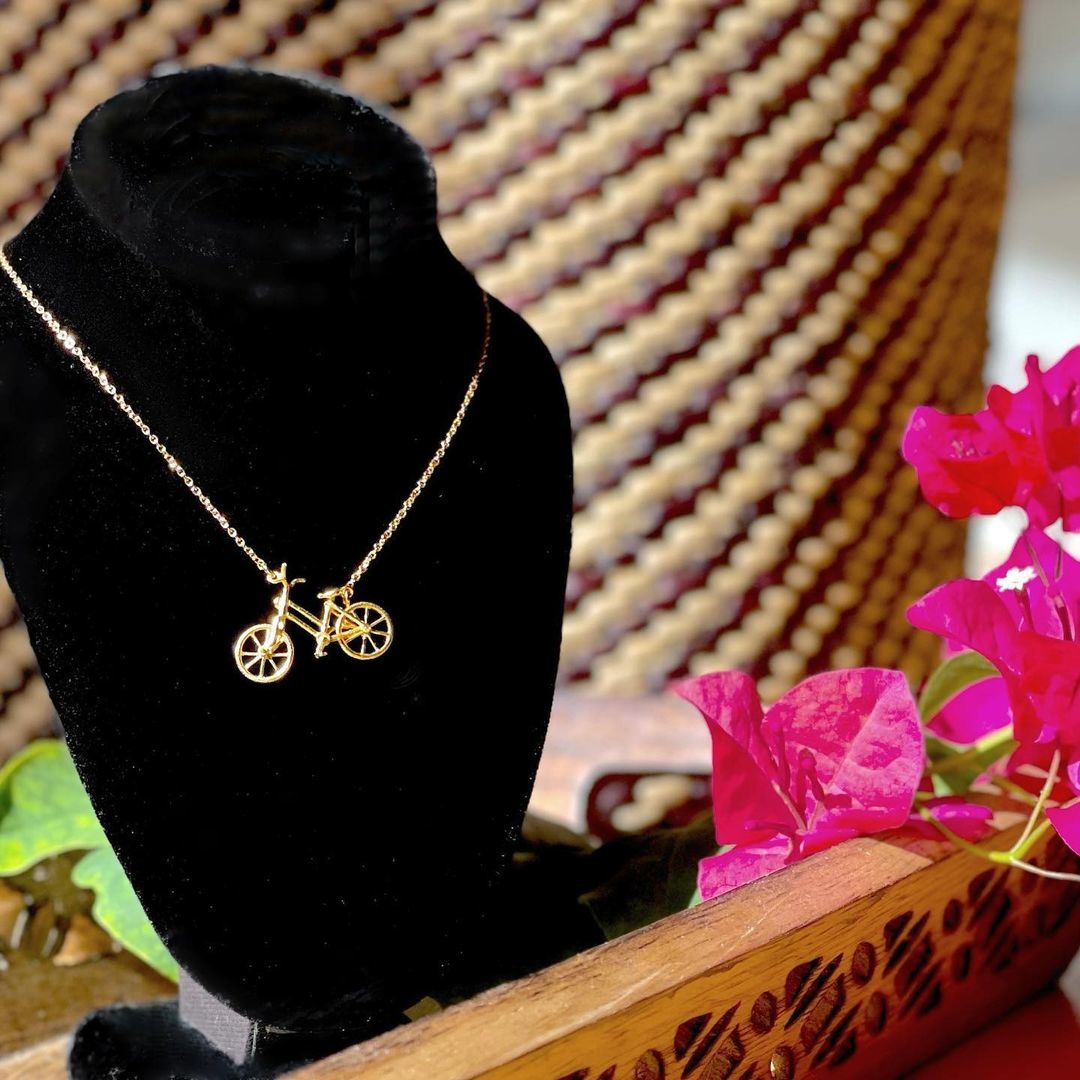 On the third day of our 12 Days of Holiday Gifting countdown, we've got a team member favorite: our very own Rebecca has selected a piece from our Alex Monroe collection, shown here.
Handmade in England by Alex Monroe and his team, this Vintage Bicycle Necklace is gold plated with extra special detail all around: a diamond and ruby forms the head and tail lights on this vintage bicycle necklace with spinning wheels! With details abound, the wheels even spin to keep you pushing forward through life's most special moments—and perfect for that bicycle aficionado in your world. 
Available in limited supply, right here at
The Green Pineapple Wellness Center
on the corner of Duval and Catherine streets. Stop in to see this outstandingly unique piece in person today.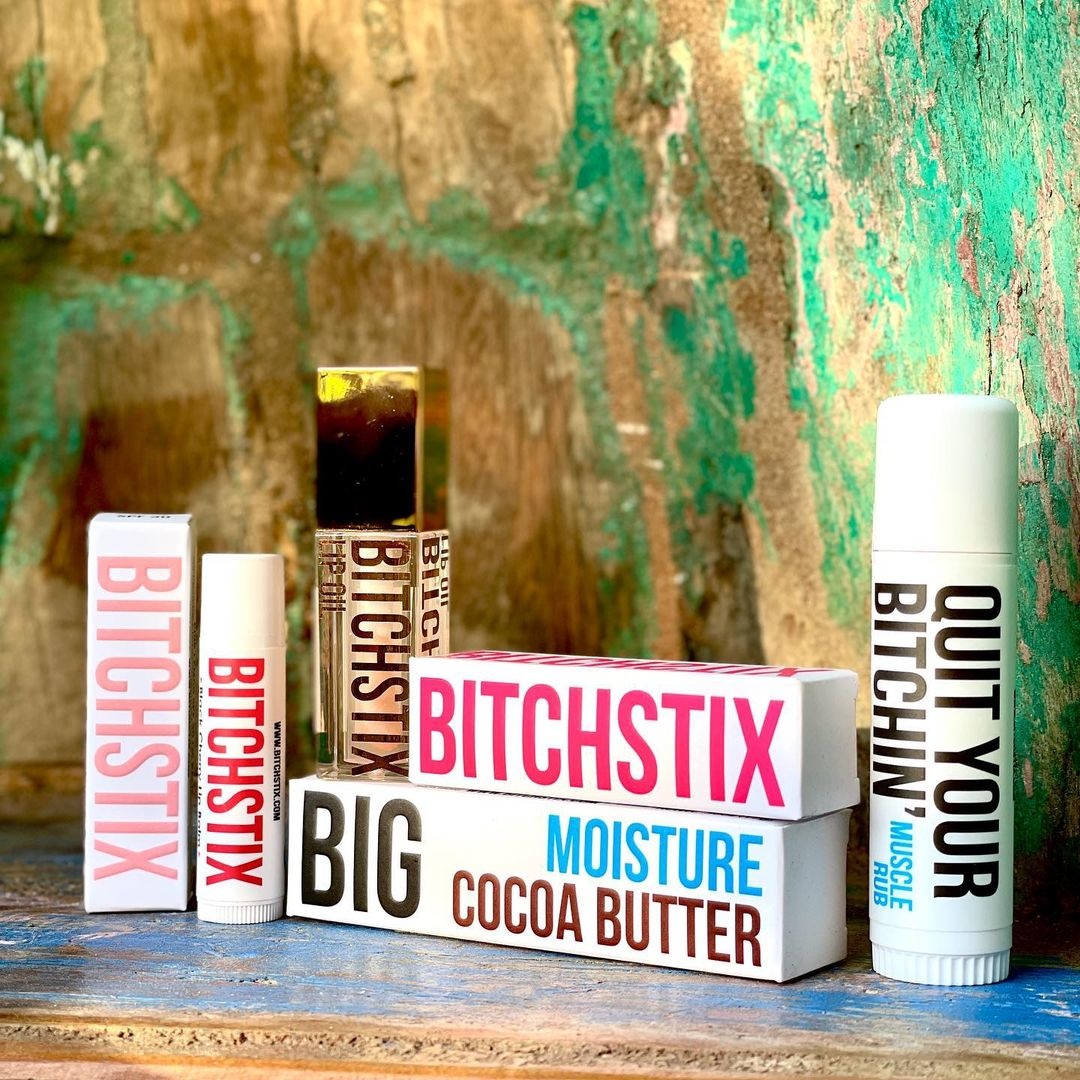 On the fourth day of our 12 Days of Holiday countdown, we're looking at a gift set that gives back to some of those who need their communities most.
BitchStix is a collection of lip care with a truly humanistic goal in mind: providing support for victims of domestic abuse and sexual assault. Their goal is to awaken people to their self-worth, and to encourage them to live boldly and courageously while helping survivors by making donations of profit portions through affiliated non-profit organizations.
"By putting 'bitch' in the name, we're appropriating a word that has historically been used to inflict shame, and attaching it to an agent of restoration." —BitchStix Team
With giving back in mind, you can find a wide range of products in their line including SPF lip balms, protective and hydrating lip oils, muscle relaxing balms and even moisturizing lotion sticks. A great gift of self-care and empowerment, all wrapped up in a bow.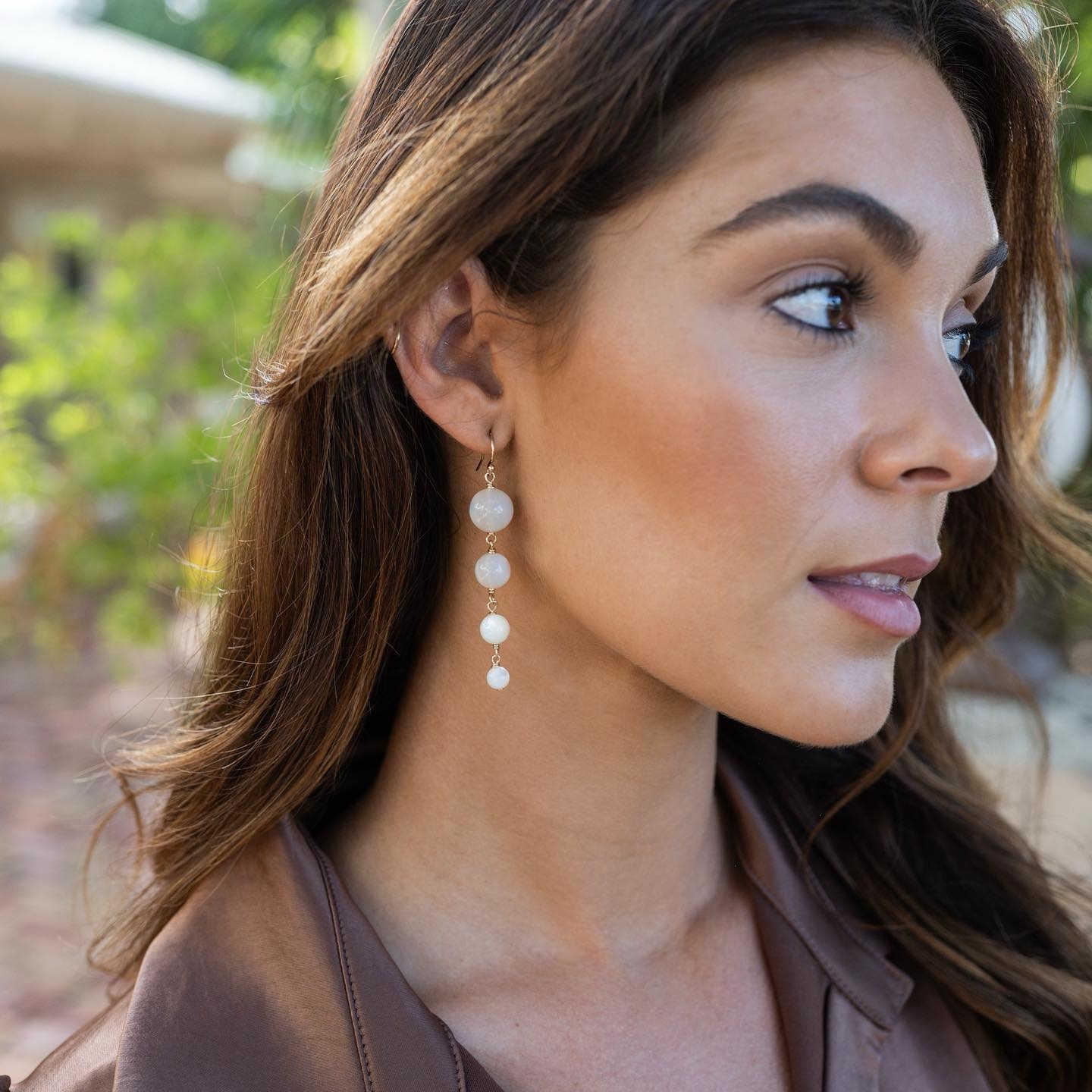 It's day five on our countdown of 12 Days of Holiday gifting, and today we're highlighting locally-made pieces by Key West resident Karen Moore.
A refined, subtle air of beauty radiates from these stunning Long & Lovely mother of pearl earrings, paired with gold filled touches. ZEN by Karen Moore exudes Key West (and island) style, offering atypical stylings with classically gorgeous energy. With an iridescent ivory glow, these Pacific-sourced pieces are handcrafted in Key West and will have you feeling like a true treasure on any occasion.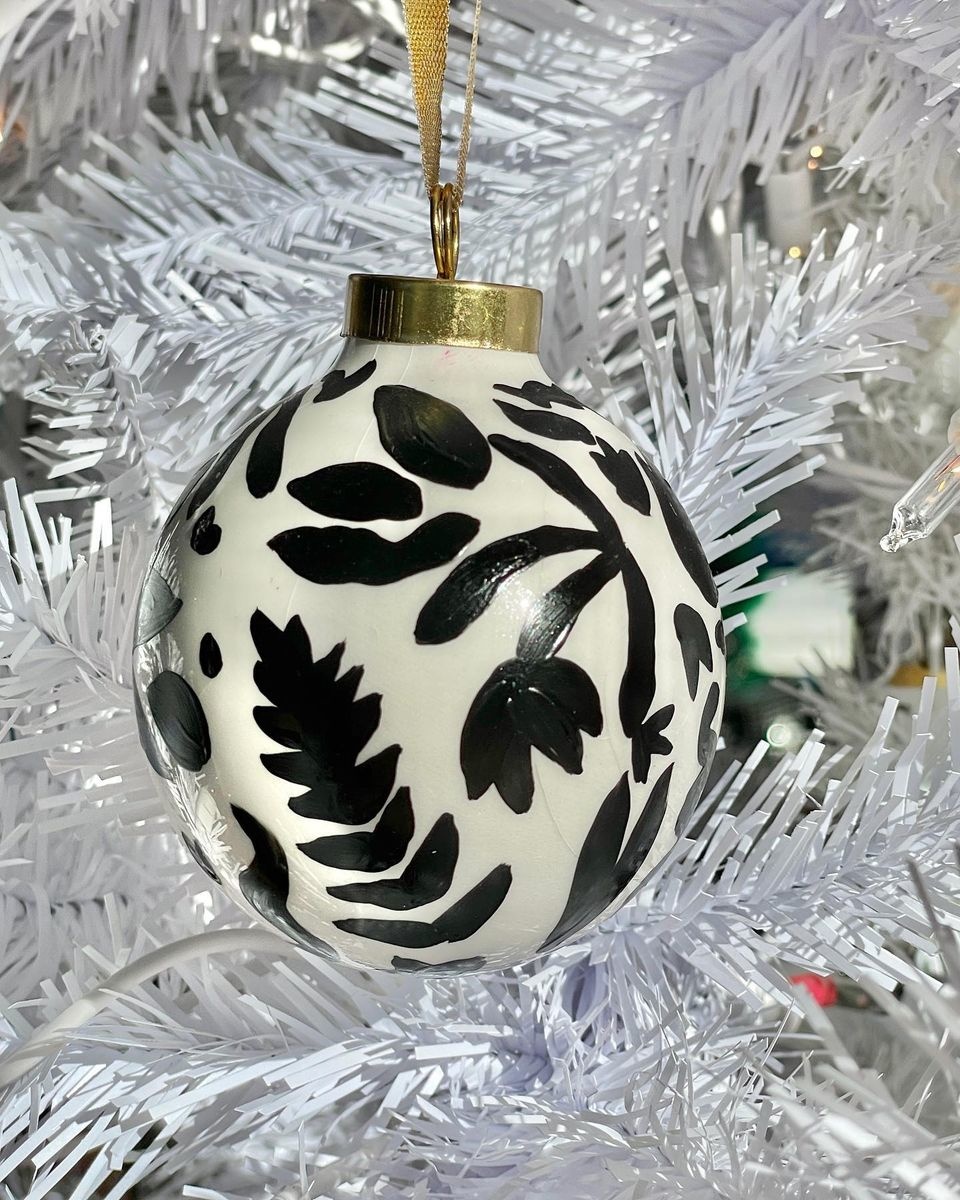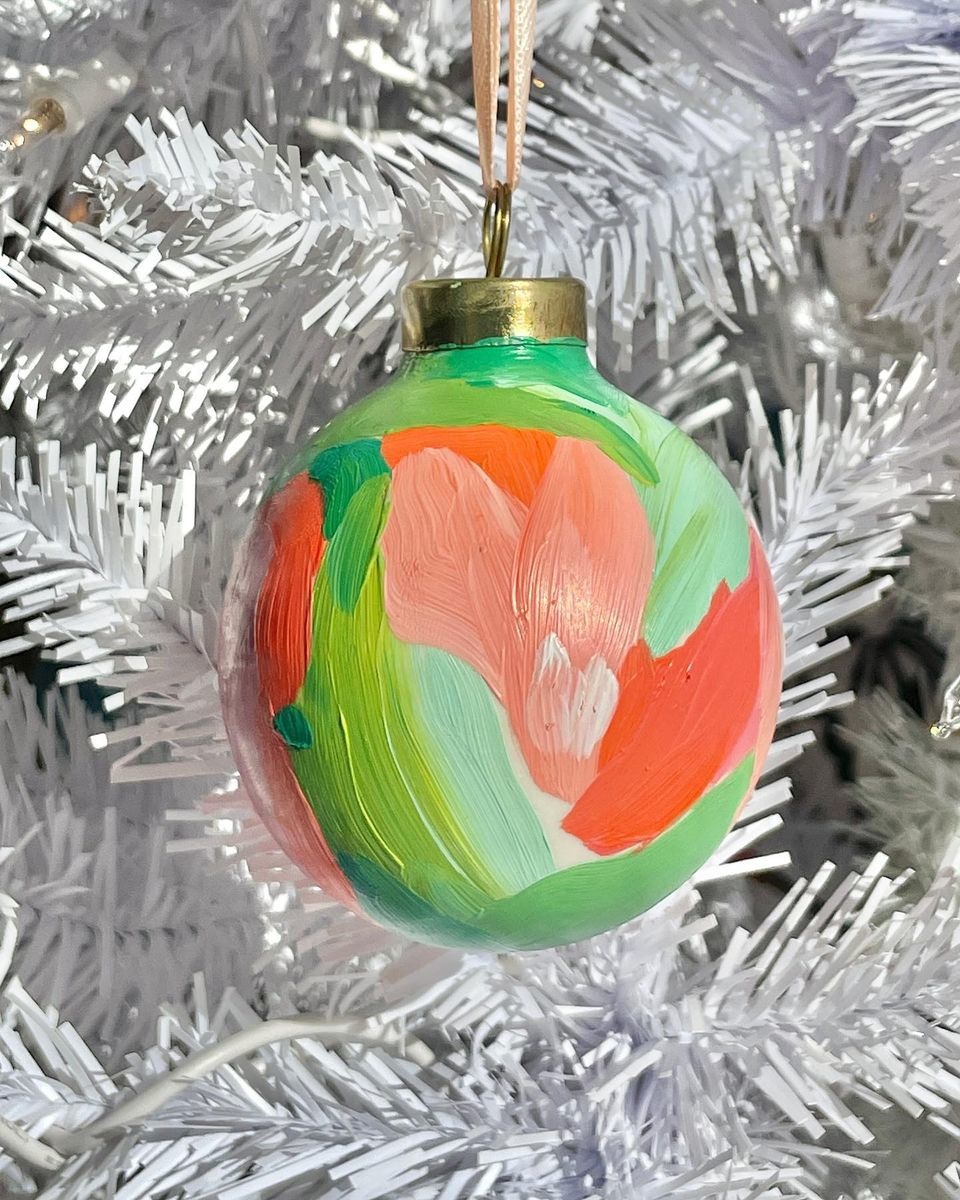 The sixth day of our 12 Days of Holiday Gifting brings us to the doors of Ocean Blues Studio, where artist Katlin Spain is creating Christmas ornaments worth of display in a museum.
Hand-painted and therefore one-of-a-kind, each ornament is crafted with Spain's signature island style. In her own words, Spain describes her works: "Changing colors, textures, and patterns, and curates them into landscape-like environments where these new objects can co-exist."
Painted right here on the island at Ocean Blues Studio, these ornaments will shine among even the most eccentric and vibrant of trees and will be appreciated by all who receive them. You can find these styles and more at our
Duval, Bahama Village, and Stock Island locations
.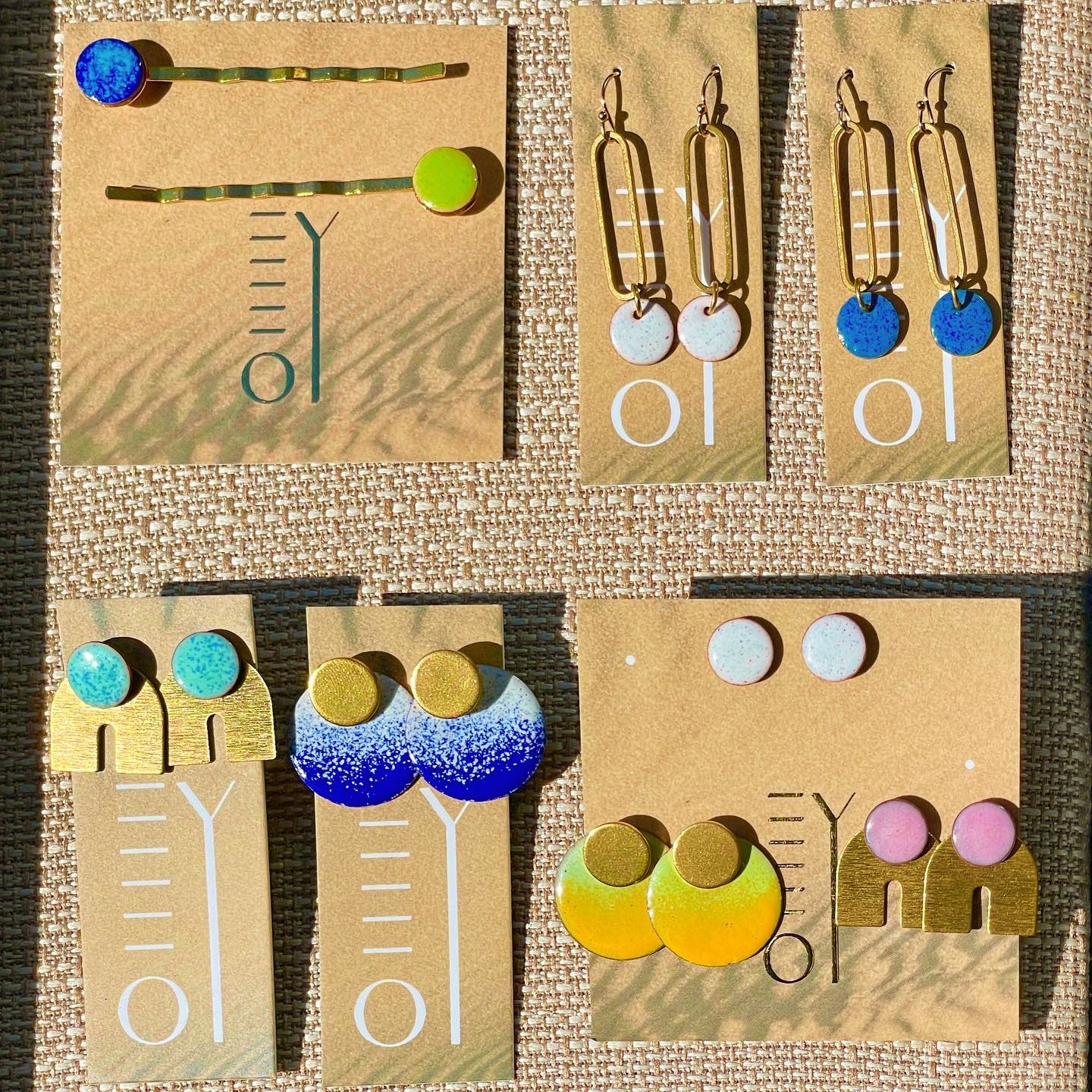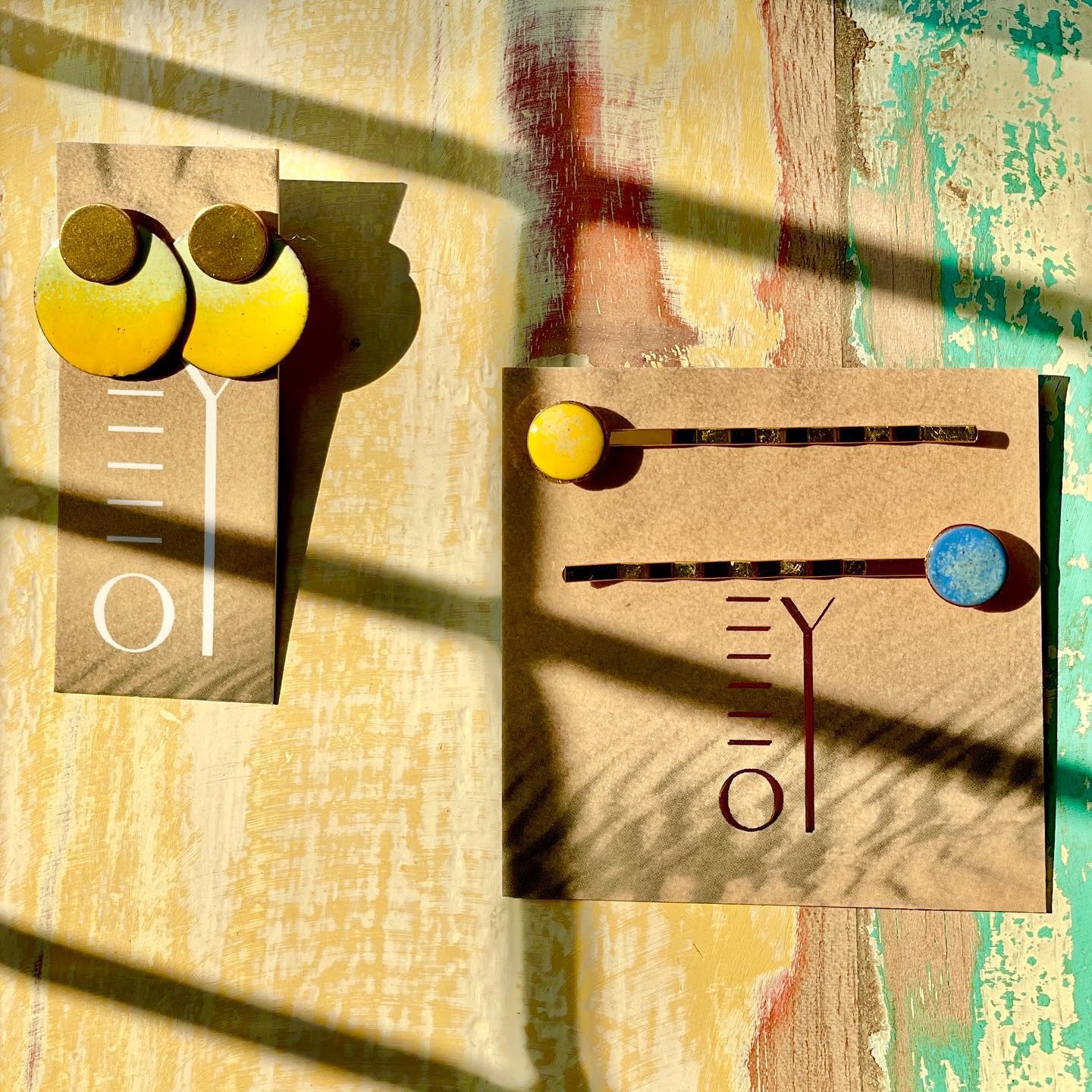 Gifting can be tough, especially for those who are more particular about their style. That's why on the seventh day of our 12 Days of Holiday Gifting countdown, we're taking a look at IVY, an interchangeable line of jewelry by Chelsey Greene Studio that allows for customization right on the spot.
With a wide range of sets and singles available, you can swap IVY selections from set to set before buying. So if you're looking at a set that has the perfect color palette but you'd love to swap the pink set for the yellow, go for it. Love the green pair in the set, but just need one? Swap the pair out onto a single pack and be on your way. This way, you can purchase the exact set or single that your loved one (or you) will love 100%.
Our team member Tracey knows well that even in Key West, having a staple jacket to throw on while running out the door is a must. Topping off the look with a Uashmama shoulder bag to keep you going with just the essentials, our eighth day of 12 Days of Holiday Gifting recommendation from Tracey is not only a beautiful pairing, but functional too. Just tap the item directly in the post to order in seconds.
Available exclusively via our
online boutique
, this perfect duo can be shipped to you directly—or picked up directly from our Duval location with in-store pickup if you're in the neighborhood.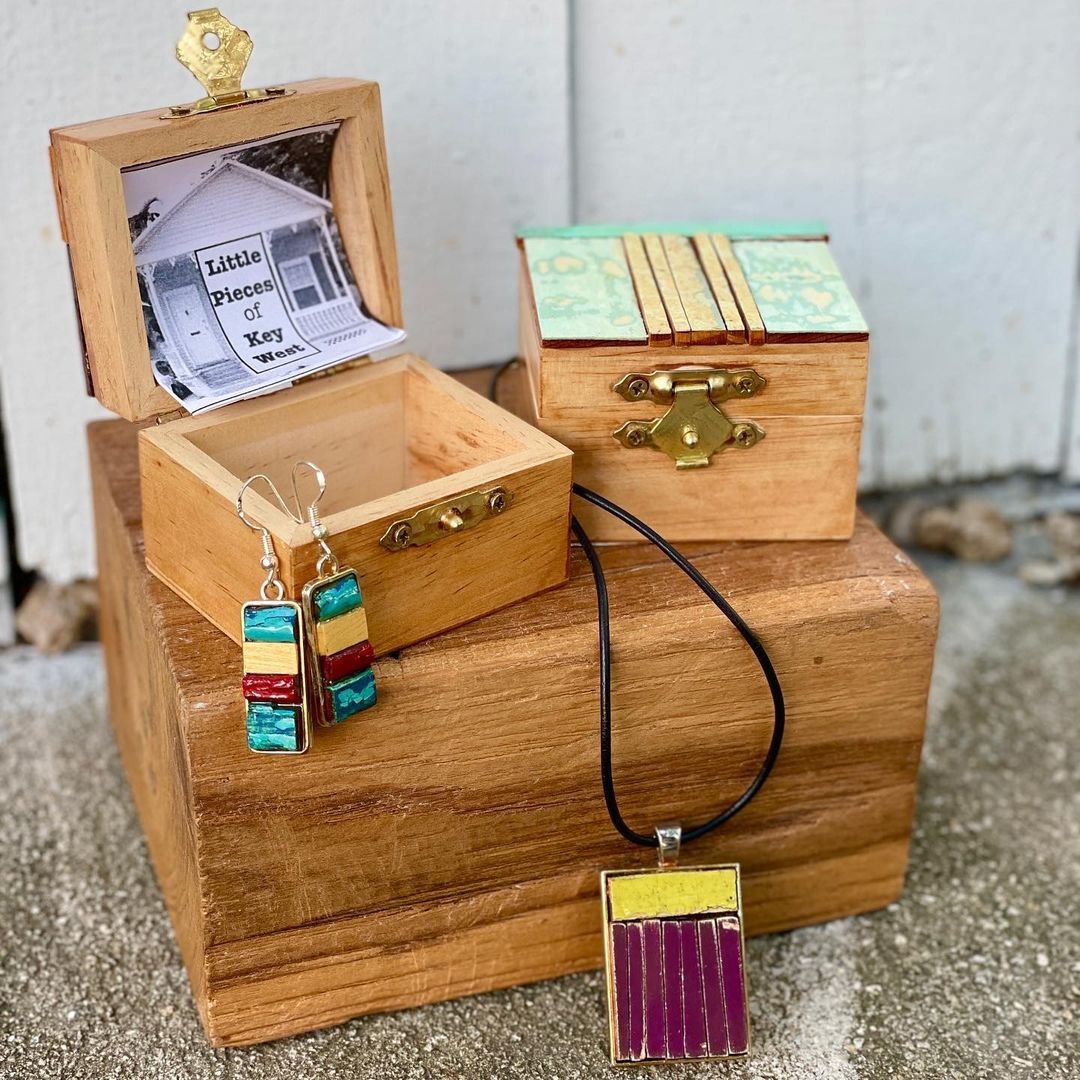 Ninth up on our 12 Days of Holiday Gifting countdown is a selection by our team member Lauren, and is one especially dear to us and those who have spent many a blue moon in an historic Conch home. With a new age of Key West always on the horizon, local artist Niki Pinko has found a way to seal the memories within those Conch home walls into keepsakes that will live on forever.
Crafted locally on the island, these outstanding pieces are born of Conch homes past, utilizing materials from within such as linoleum flooring and the iconic Dade County Pine. Being reborn into updated versions of their historic selves, these homes shed their materials of the past in favor of new. When they are to be retired or tossed aside, Niki Pinko gathers these mixed materials comprising of floors, walls, and doors with hundreds of years with of Conch history. Once sourced, she crafts these soulful materials into stunning, contemporary pieces in forms of jewelry and keepsake boxes to preserve the history and lives lived within these breathtaking homes.
In addition, each keepsake comes with a slip of identity, allowing you to visit the exact address of the home your pieces were sourced from, right here in Key West. In a way, we consider this collection one of our most precious additions to The Green Pineapple's selection, bringing the truth and soul of Key West wherever you may go.
You are welcomed to experience these timeless pieces of wearable history and culture in person, exclusively at
our location
within the vibrant streets of Key West's Bahama Village.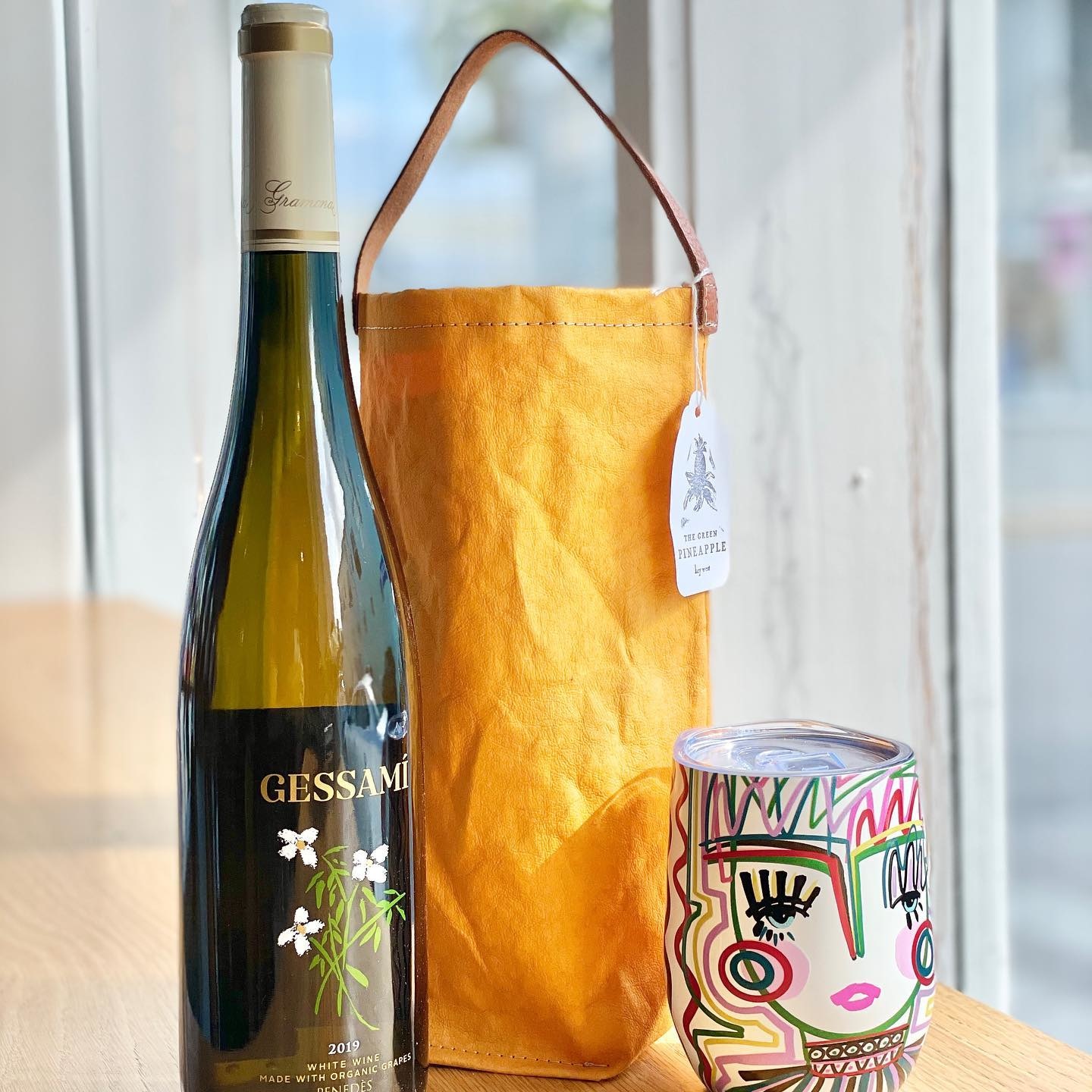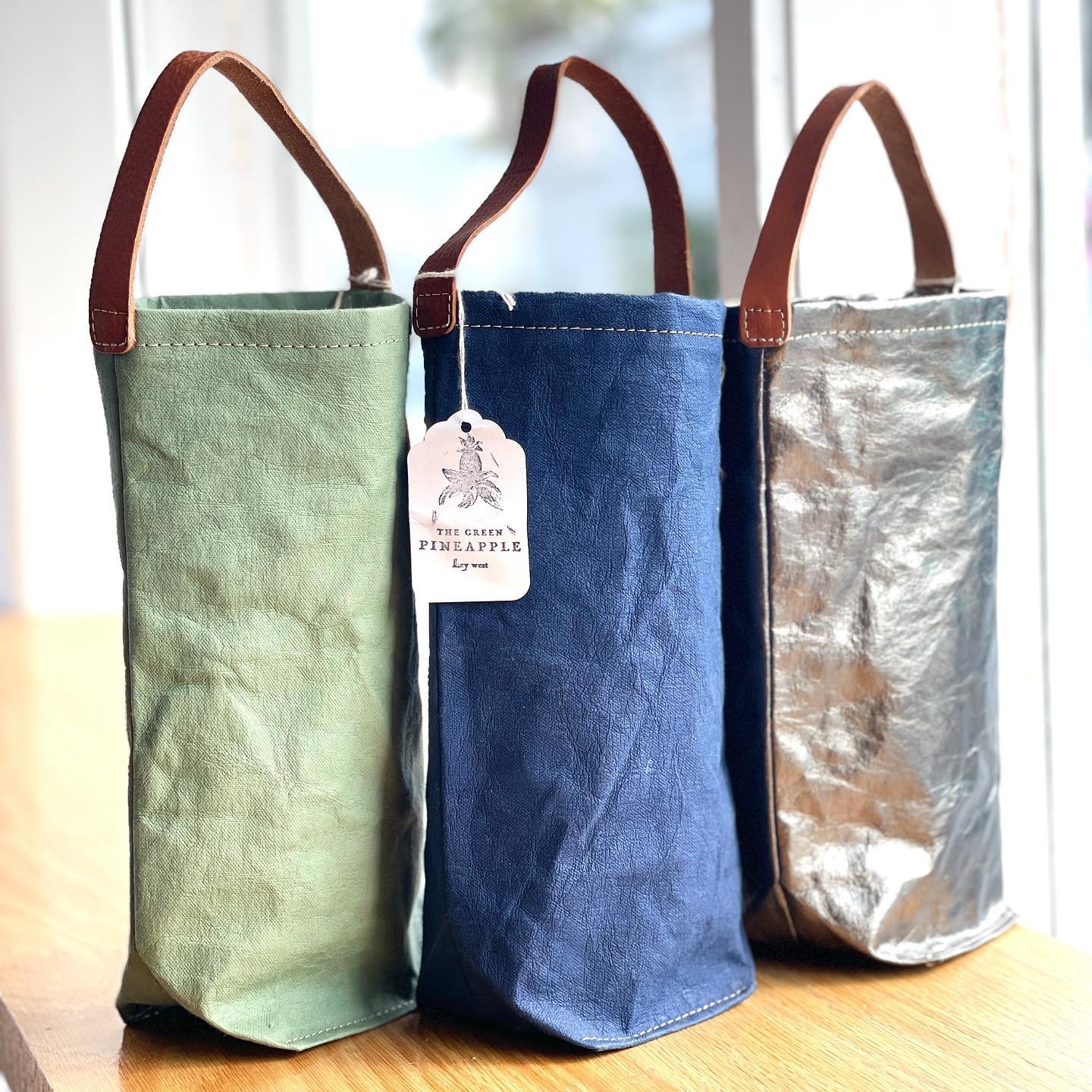 For the tenth day of our 12 Days of Gifting countdown, we're taking a seat back at The Green Pineapple Wellness Cafe, where in addition to deliciously nourishing food, we've also got a simply stunning wine selection.
Our team member Layla has chosen her favorite wine from our collection, shown here: a 2019, organic white wine by Gessamí that tastes even better than it looks.
Layla also knows a good white wine comes with a slight chill—and with our Uashmama recycled paper wine totes, you can rest assured your wine will be the perfect temperature when you arrive. Sealed and insulated meaning their resistant against moisture and heat, these Uashmama totes come in a wide range of colors and finishes to match any outfit or occasion.
Topping off the gift set is the ever-eclectic artistry of Windy O'Connor, featured here on her insulated wine tumbler which is boasting one of her iconic "Chica" prints. In her own words, Windy describes the Chicas: "Representing the intricacies, humor, strength, and power of women. They are our mothers, sisters, friends, and history makers."
You can find all of the selections within this gift set sold individually at
our location
on the corner of Duval and Catherine Streets, within the
Wellness Cafe
.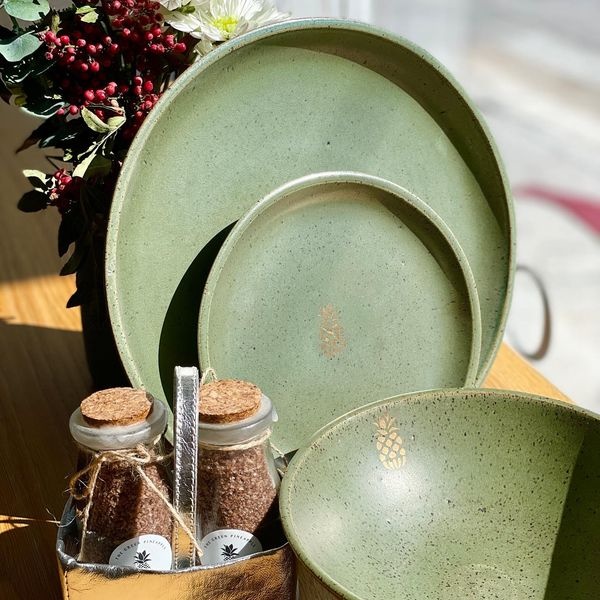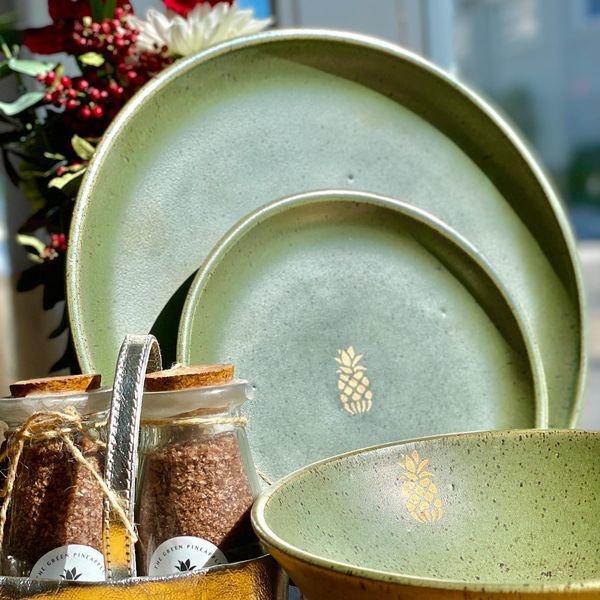 Welcome to the eleventh, second-to-last day of our 12 Days of Holiday Gifting countdown. This time, it's an up-close look at our custom line of stoneware, curated by @shadeandshutterkeywest right here on the island.
With our signature Green Pineapple colorway and a subtle golden pineapple stamp, these pieces are custom for our shop and are made meticulously by our friends at Shade & Shutter. Perfect for holiday feasts and well into the future, these strong, timeless pieces will always fit your table settings. Plates and bowls are both the staples of these collections, coming in a wide range of sizes and shapes for maximum functionality and beauty.
Give the gift of a feast remembered, available right here at our Duval Street location within the Wellness Cafe.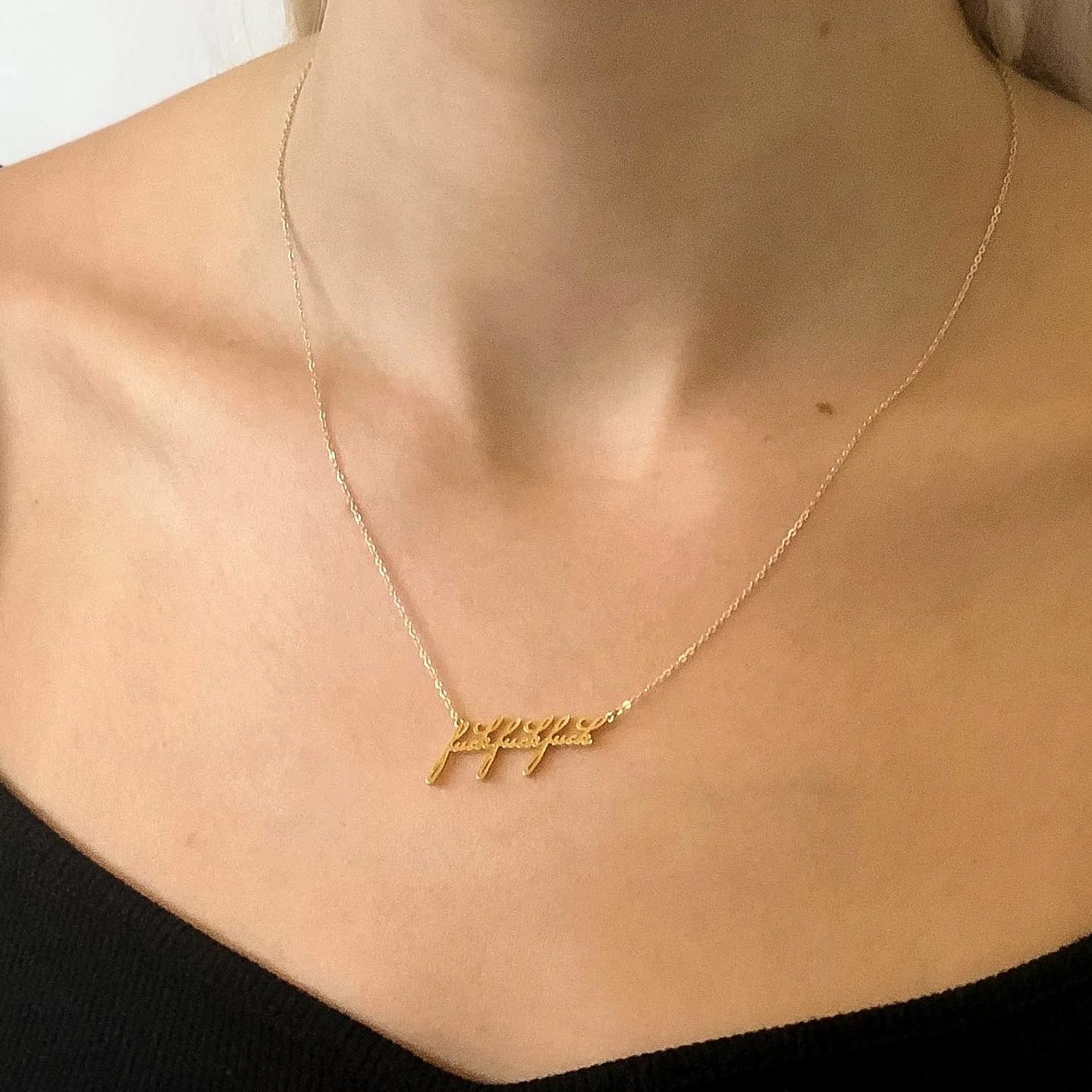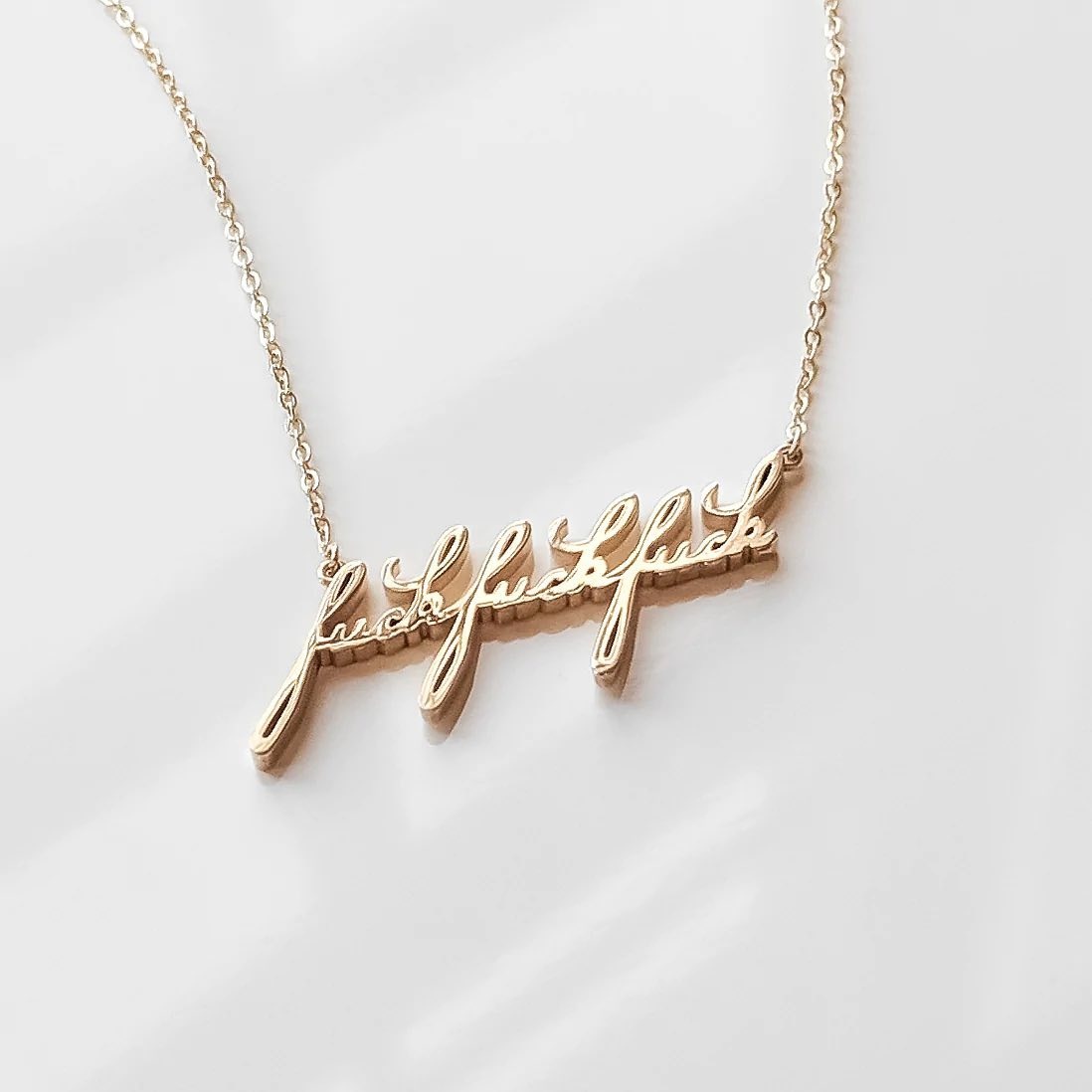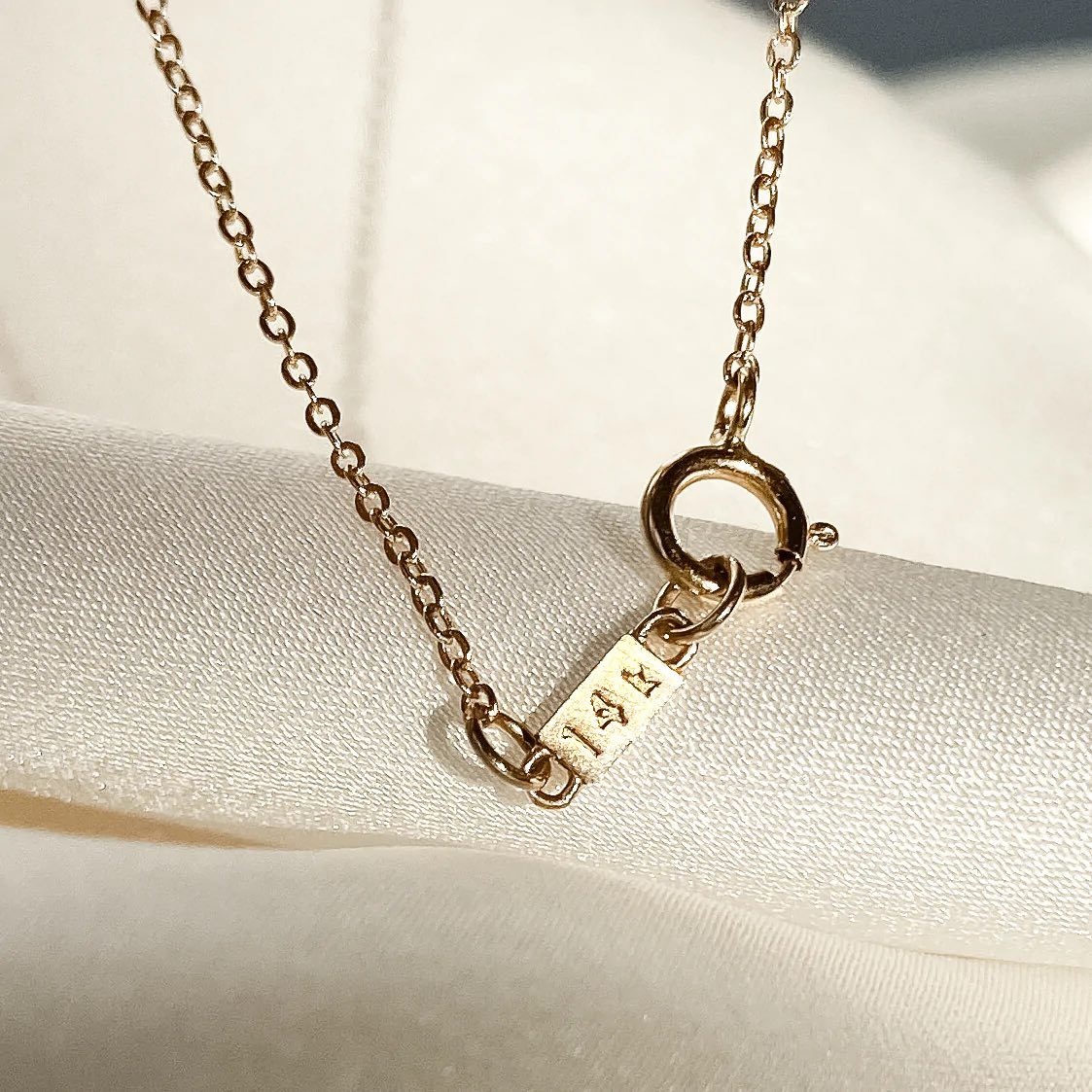 Cheers to the holidays—we've finally arrived to the final day of our 12 Days of Holiday Gifting, and we're finishing off strong (as we do).
THATCH jewelry has always been a Green Pineapple favorite, especially their "Triple Fuck" necklace that we can barely keep in stores. But this time, THATCH is feeling *fine*. Enter our final gift recommendation, from our wonderful team member Jen: THATCH's classic Triple Fuck necklace, now in a fine jewelry option crafted in solid 14K gold from pendant to cable chain.
With a soft, delicate script reading "fuckfuckfuck", this 16" solid gold chain is both a subtle thing of beauty and a cheeky ode to empowerment and expression. Both show-stopping and subtle enough to sit comfortably under radar, the THATCH Triple Fuck in 14K gold is at the top of our holiday gift list this year.
THATCH fine jewelry, including the Triple Fuck Necklace in 14K gold, are available exclusively at our
Duval Street
location now.
Still can't decide? You're running out of time but you can always give a gift card to that someone special. Purchase one at any of
our locations
in Key West or
online
.