Login
Log in if you have an account
Dont have an account? Register
WHAT'S NEW IN AUGUST
03 Aug 2020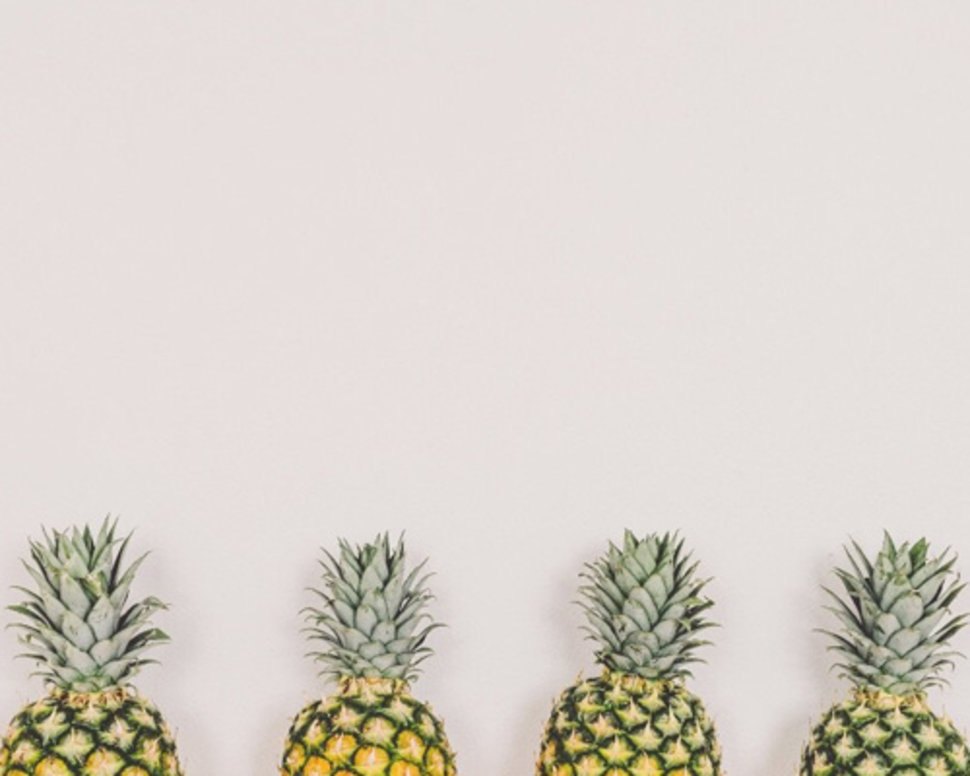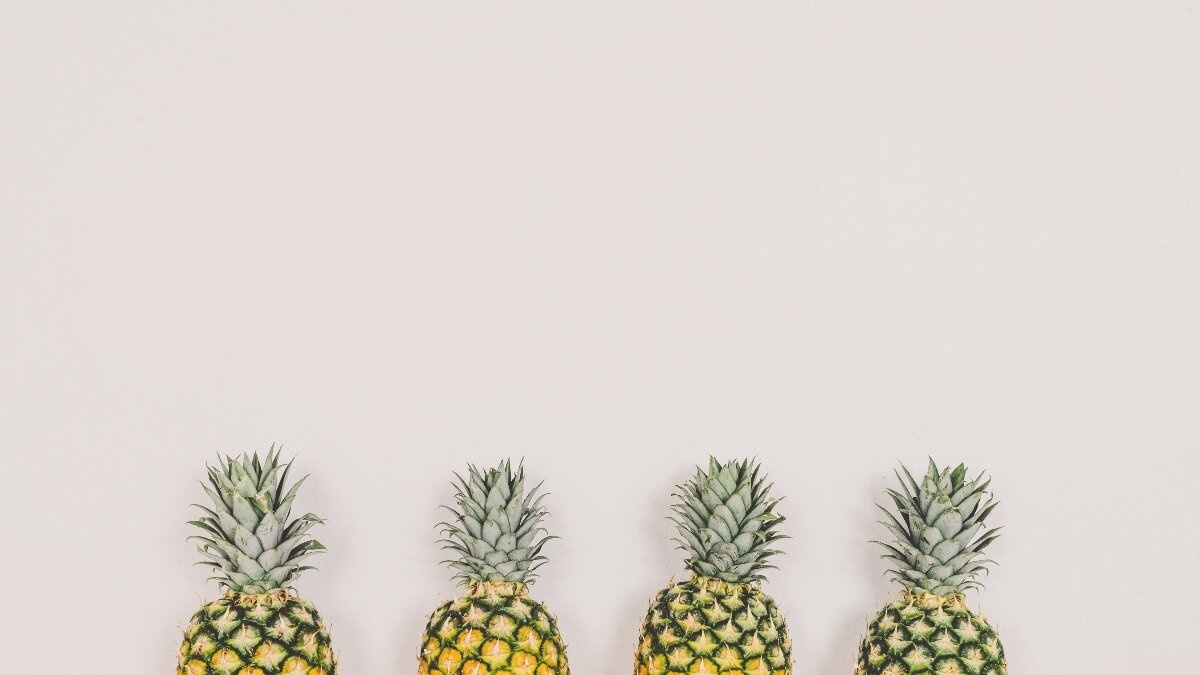 It's sizzlingly hot here on our tiny Island Paradise, and so I've been spending less time out and about and more time at home, reflecting on the life we are living today. We've lost so many things in a ridiculously short period of time - structure, routines, economic and everyday freedoms - that trying to grasp the full impact of Covid 19 can feel overwhelming not to mention downright stressful. While social distancing is one of the many measures to prevent infections, it is equally important to maintain a healthy lifestyle. Proper nutrition, physical activity, adequate rest and taking care of our mental health not only improves our overall health and wellness, but also makes us more resilient during this seemingly never-ending pandemic. Take the opportunity to be especially mindful and supportive of yourself first because only then can you help someone else.
One major step in self-care is recognizing when our body is stressed and taking the necessary steps to reduce its impact on our health - both mental and physical. Sometimes, just five minutes of mindful breathing can do wonders.
Finally, although eating nutritious foods, practicing yoga or other physical exercise and getting adequate rest boosts our immune system and makes us more resilient to the virus, it does not prevent us from contracting Covid 19. So please, wear your fabulous masks, after all, they are the hot new accessory for 2020.
Stay Safe, and be kind.

Love,
Jen.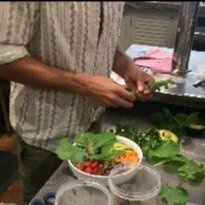 Did you know that those leafy sprigs of parsley that garnish your dinner, or the mint sprigs in your drink contribute more than color and flavor. They're also rich sources of valuable nutrients. Research has shown us that herbs contain high levels of polyphenols which act as antioxidants and help to prevent cellular damage and inflammation in the body. Scott, our green thumb, massage therapist and a longtime member of Green Pineapple Cafe team has created the most beautiful tiny herb garden from which we collect various herbs to add to our favorite spinach salad. Come in to our Duval Street Flagship location and try it our 'Herban Salad'. Or maybe our version of the famed Arnold Palmer, made with a homemade Hibiscus tea and delicious lemonade mix that is topped with a sprig of our garden fresh mint. A perfect antidote to the hot summer day.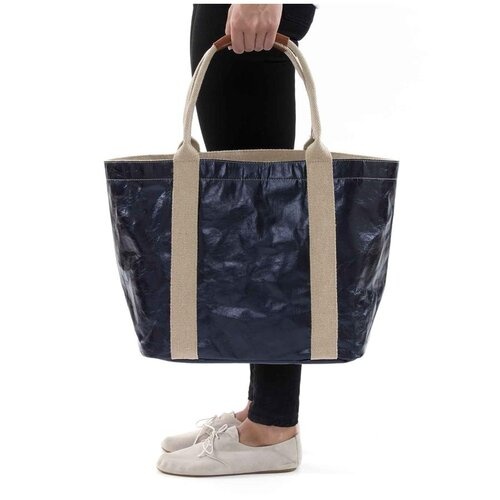 Now...Here is something that has us all very excited.
Have you ever heard of the Italian family-owned design company called Uashmama? No? Well, they make the most beautiful, sustainably-sourced and certified eco-friendly, hand-sewn bags.
Uashmama PAPER BAGS are unique, innovative and a brilliant combination of tradition and craftsmanship. They are washable and you can even iron them. They come in many versions and an array of colors. We currently have them in the crossbody, totes and wine cooler versions. Stop in at one of our Key West boutiques and check them out. Not local, no problem. You can find them in our online boutique.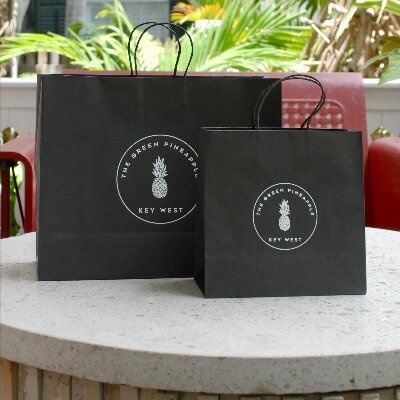 As a special thank you to you, our loyal customers and friends, for your unwavering support, The Green Pineapple has launched a loyalty rewards program. You get 20% off your first purchase either in store or online! It costs nothing to sign up and you earn points with each purchase you make. So please be sure to check it out and sign up.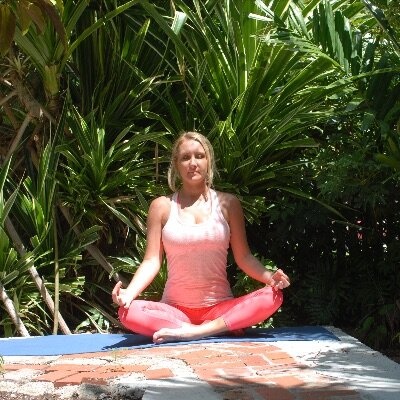 At the Green Pineapple we believe that a regular yoga practice is paramount in relaxing the mind, centering our attention, creating clarity and relieving chronic stress patterns. This centuries-old mind and body exercise is not only fun, but also good for you. It improves muscle tone, can effectively combat stress with deep breaths and provides the opportunity to delve into a relaxed state that puts the brakes on stress. Check out below to see how to do a Sukhasana with Eagle Arms - a simple yet so beneficial exercise.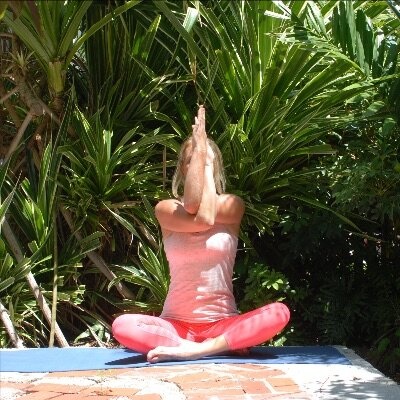 Sukhasana with Eagle Arms
This easy pose opens the chest, brings fluidity to the spine, strengthens the spinal muscle and core. Sitting cross legged on the floor or on a cushion or even a chair with both feet flat on the ground, lengthen your torso and bring your hands in prayer position to your heart center. Do not allow your chest to sink. Lift your chest and broaden your collarbone, releasing the shoulders downwards. Breathe deeply.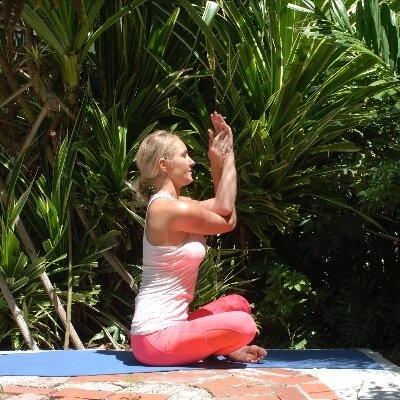 Press your palms lightly together and slowly raise your hands, bringing your elbows close. Take your right arm below and around the left and gently move the right palm to the left palm. Keeping you spine straight, relax your shoulders and gaze straight ahead. Breathe normally for as long as is comfortable. To release, unwind your arms and bring the hands, palm up to rest on your thighs. Breathe deeply, then repeat with the left hand.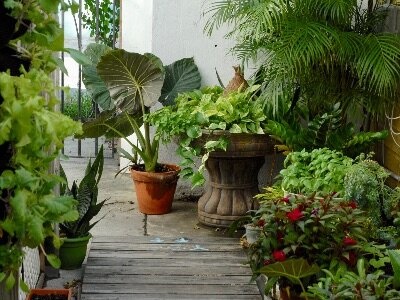 We couldn't possibly leave without showing you this bountiful path which leads to our Yoga Shala - a lively herb filled oasis that Scott has created in our narrow backyard, welcoming you to class.